Yay!LA Mag premieres music video for single "Attachments"  
January 13, 2020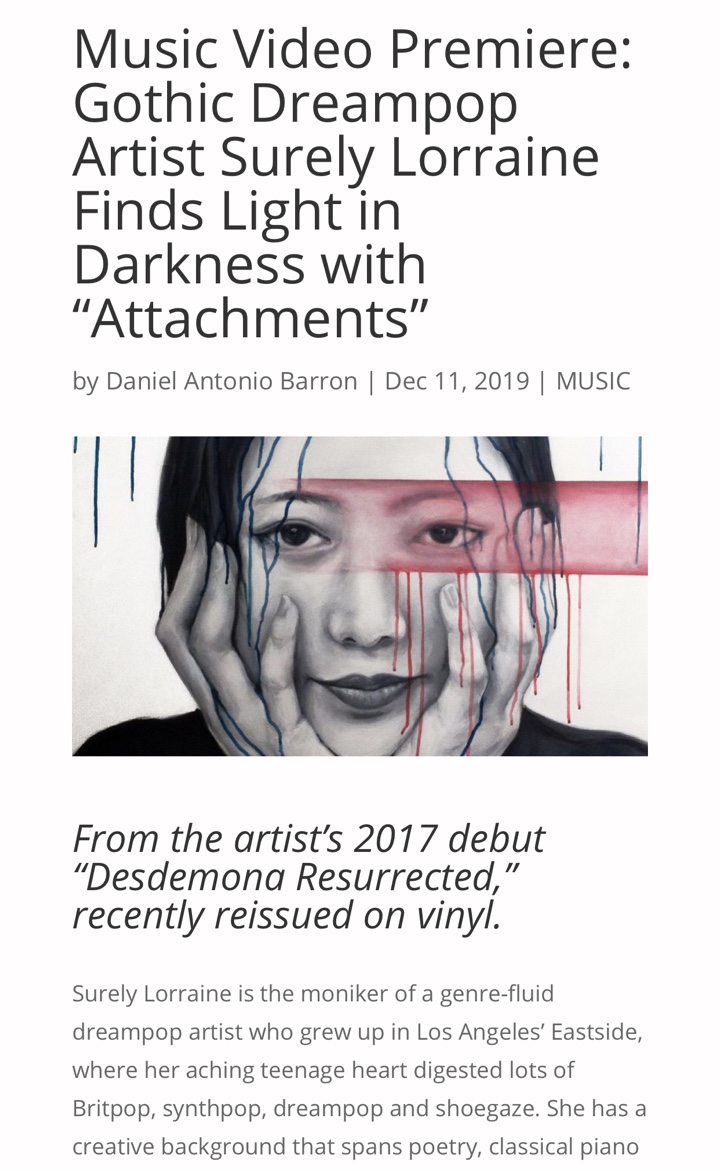 Surely Lorraine is the moniker of a genre-fluid dreampop artist who grew up in Los Angeles' Eastside, where her aching teenage heart digested lots of Britpop, synthpop, dreampop and shoegaze. She has a creative background that spans poetry, classical piano training, theatre (East West Players Conservatory, Lodestone Theatre Ensemble) and film (director Justin Lin's Better Luck Tomorrow). Surely Lorraine made her foray into music in 2011, co-writing songs and releasing a maxi-single in 2012 ("Calling Out") and the EP Tunes of Portugal in 2013. 
Around the release of the maxi-single and EP, immense tragedy struck Surely Lorraine's life, when she lost four loved ones to cancer and a motorcycle accident. After a period of grieving, she returned to the studio to begin work on what would eventually become her debut album, Desdemona Resurrect. It was finally released on CD and digital formats in 2017. At that time, DJ Julie Slater chose the song "Attachments" for her "Local Anesthetic" feature on her "Out on a Limb" show on 88.5 FM and the song "Grandmother Tongue" was featured on Buzzbands.LA's IndieFM show. 
On December 6th, Surely Lorraine put out the vinyl for Desdemona Resurrect via her own Motorway One Music imprint. The 8-track album includes covers of the Simple Minds' "Don't You (Forget About Me)," "Ai Oboete Imasuka (Do You Remember Love?)" from the classic anime film Macross Plus and "Alone Again Or" by the LA band Love. 
Writes the artist of her latest work: 
"My music and making videos has become a way for me to explore a lot of darker issues and feelings and as a goth, the holidays are not necessarily a time those issues disappear. I lost my younger brother very suddenly before the holidays several years ago, as well as my fiancé soon after, so these creative mediums have become an outlet whenever I'm able to set aside time for my own art and music." 
Now Yay! LA premieres the music video for "Attachments," which finds Surely Lorraine and her band communing with the other side. Like the full album itself, it synthesizes folk rock, New Wave, and gothic sensibilities into something aching and beautiful. 
Molasses Mag includes song "Grandmother Tongue" on its launch compilation –  
April 12, 2019 
VoyageLA online magazine interview under their "Thought Provokers" section – August 20, 2018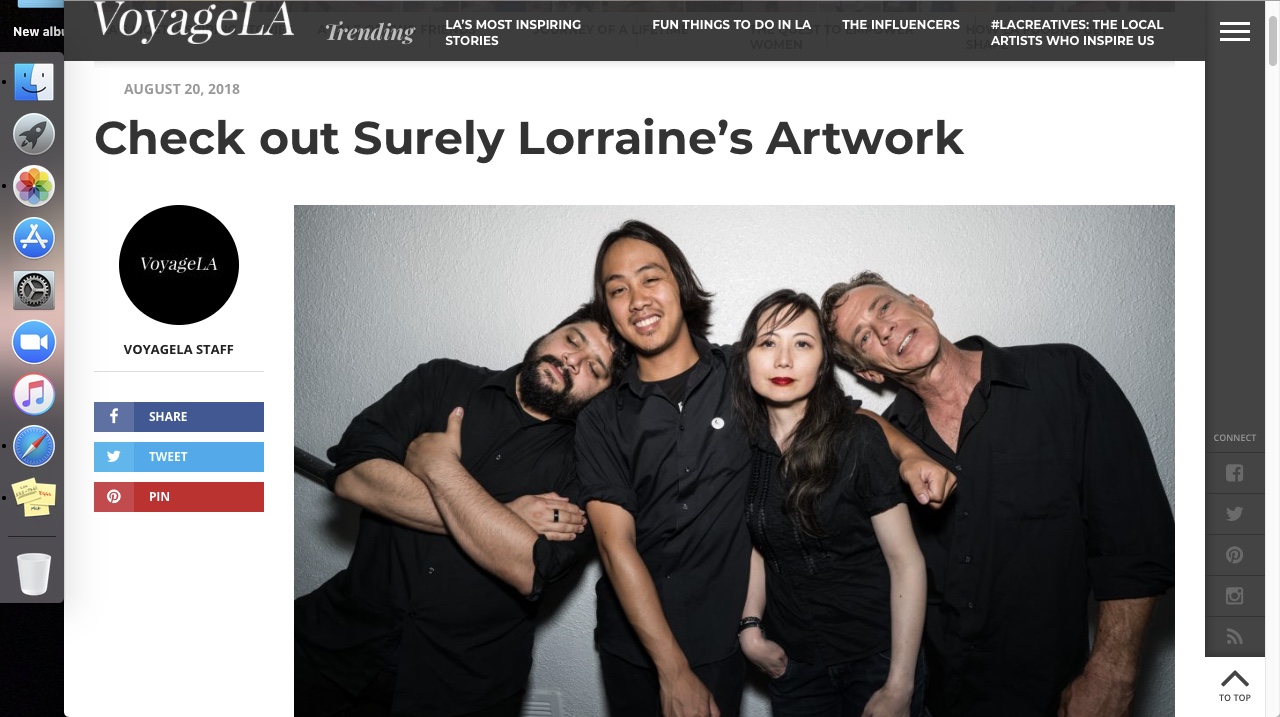 Photo by Lesley Park 
Today we'd like to introduce you to Surely Lorraine. 
Surely, we'd love to hear your story and how you got to where you are today both personally and as an artist.  
Dreampop/punk/goth/shoegaze artist/singer/songwriter/producer born and raised in Los Angeles but heavily influenced by Britpop and post-punk from the U.S., U.K. and New Zealand/Australia. In 2013, my EP "Tunes of Portugal" was released and last year my debut album "Desdemona Resurrect" was released on my own label, Motorway One Music (half produced/co-written with Boz Boorer and half coproduced with Eric Berdon, mastered by Emily Lazar at Lodge Mastering, assisted by Chris Allgood). 
The latest album also has three covers: "Don't You (Forget About Me) originally performed by Simple Minds, "Ai Oboete Imasuka" from the anime movie Macross, and "Alone Again Or" originally performed by the Los Angeles band Love and later also covered by The Damned. 
We'd love to hear more about your art. What do you do you do and why and what do you hope others will take away from your work?  
Music is my art, my obsession, and my inspiration. It's a way of conveying moods, experiences, feelings, and ideas in a uniquely distilled form. Whether I cowrite with others or alone, it starts with the blank page and little by little a world takes shape. My perspective is undeniably from a female, human, "other" point of view. I hope to move people and open their eyes to a different way of seeing things. 
My music sometimes acknowledges very difficult subjects and I hope others who've gone through similar situations find solace and a voice that understands exactly how they feel. My latest album delves into everything from solitude to counterrevolution to domestic violence to surviving the loss of loved ones. It's both light and heavy. Thoughtful and hopefully thought-provoking. 
What do you think it takes to be successful as an artist?  
Success to me is inspiring others through song, touching their heart and making them think about their lives in a different way. 
Contact Info: 
Website: SurelyLorraine.com  
Instagram: https://www.instagram.com/surelylorraine/  
Facebook: https://www.facebook.com/SurelyLorraine1/  
Twitter: https://twitter.com/surelylorraine  
Spotify: https://open.spotify.com/artist/2jx8suG0i6ejt2GKYjTGT5?si=2HUbAsV8ThO7-0L_Esle4A 
Frequenzy Netherlands adds Surely Lorraine songs ("Don't You Forget About Me," "Grandmother Tongue," "Random Rain" and "Attachments") to regular rotation on its online Frequenzy Sessions "Indie/Rock/Shoegaze Tunes" radio station –  
August 11, 2018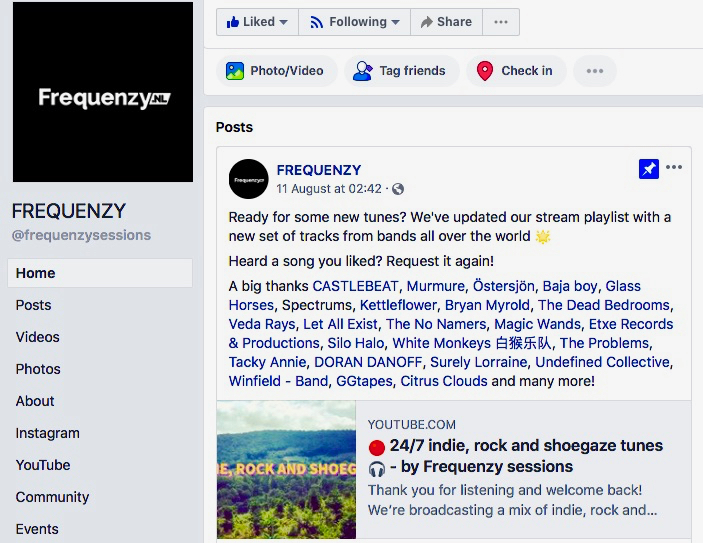 LA Music Scene adds song "Grandmother Tongue" to its "June 2018 in the LA Music Scene" playlist on Spotify – July 2, 2018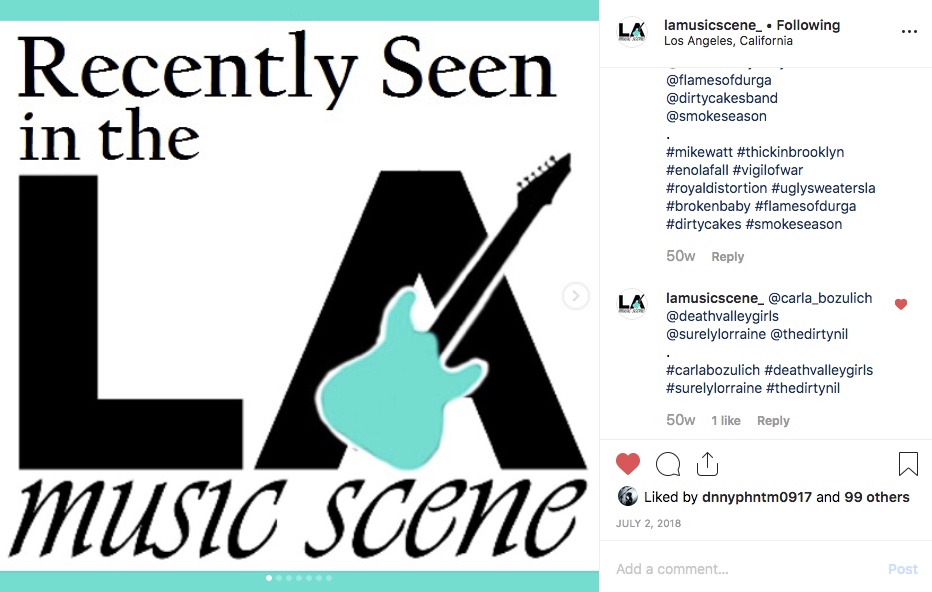 LA Music Scene covers show at The Smell – June 24, 2018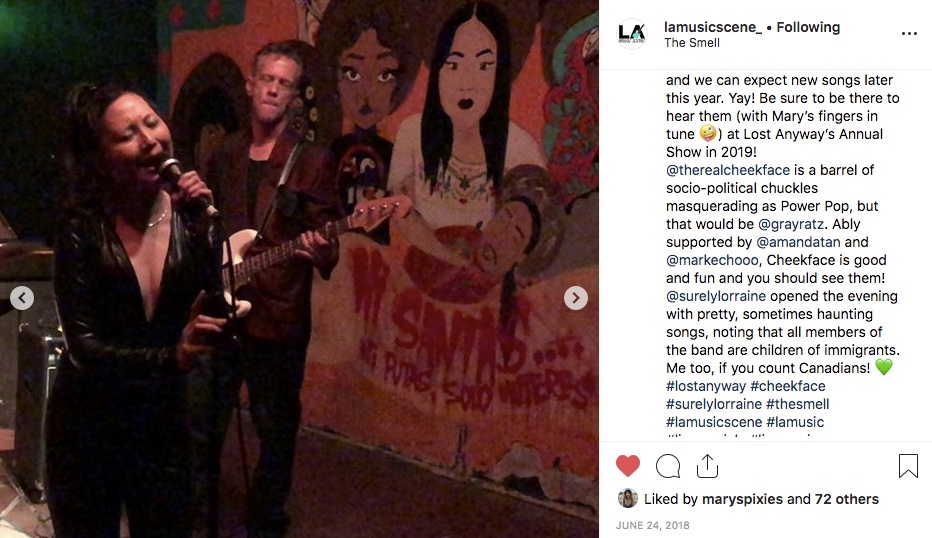 New song "Grandmother Tongue" on rotation on The Independent FM's Buzz Bands LA Show – November 10, 17 and December 8, 2017 
First terrestrial radio airplay on DJ Julie Slater's "Out on a Limb" show on 88.5 FM, new song "Attachments" chosen for the week's featured "Local Anesthetic" track – October 29, 2017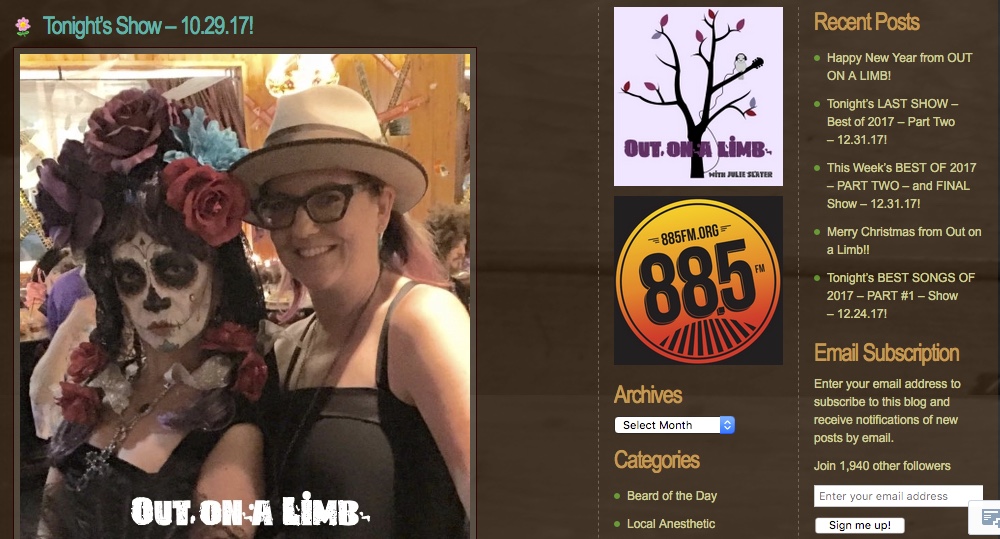 Elizabeth Martin, LA Music Examiner review of EP "Tunes of Portugal" and show announcement – July 14, 2014 
http://www.examiner.com/article/anime-wong-to-play-grand-star-on-july-17 
In the tradition of Siouxsie Sioux of the Banshees, Til Tuesday's Aimee Mann, and 10,000 Maniac's Natalie Merchant, the women of new wave are numerous, diverse in sound, and often times, in hindsight, foregone in favor of groups like Duran Duran and Flock of Seagulls when listeners seek out new wave today. 
Even if the average music listener would have to really dig to list five female new wave artists from the 1980s, the genre itself has been receiving a true gift in modernity. All of the synthesized, new wave-influenced electronic musicians like Grimes and Ellie Goulding pay often times haunting and gorgeous homage to the women who helped establish the genre in the 1980s. Anime Wong is among these female vocalists to draw heavily on the groundwork laid by past new wave musicians, most recently visible in her project Surely Lorraine. 
On Thursday, July 17, Surely Lorraine will be performing at Grand Star Jazz Club in DTLA at 11PM. Guests arriving before 11PM will have the luxury of free drinks until the performance, as well as getting to witness the DJing skills of Wong as she shares her 1980s mixtapes with the room. She will also be DJing after the performance. 
The artists who appeared on Surely Lorraine's first EP were Los Angeles' Anime Wong and Charlie Browne, who is from Portugal. Wong sang, wrote the lyrics, and created the melodies, whereas Browne composed the music. The two musicians have worked with producer Boz Boorer, who has close musical ties with Morrissey, to release Tunes of Portugal, their first EP. 
Surely Lorraine is self-described as "tinted glam with a hint of punk and new wave" and heavily influenced by the goth genre. Listeners can hear this apt and intriguing meshing of sounds in "Calling Out," in which Wong's vocals are reminiscent of the same moody crooning of singers like Kim Gordon of Sonic Youth and the wispy, new wave-inspired choruses of songwriter Jane Siberry. 
Listeners can find Surely Lorraine on Facebook and on Twitter.